EYE EXAMINATIONS AND THE BIG E – WHY IS IT AN E AND NOT ANY OTHER LETTER IN THE ALPHABET?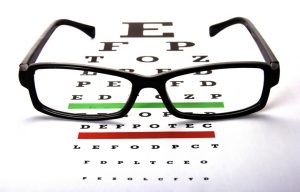 The eye chart with the Big E at the top is the most universally recognized eye chart in use. In the 1860's, Hermann Snellen, a Dutch eye doctor developed the eye chart now known as the Snellen Eye Chart. When visiting the eye doctor for an eye examination, this chart is used to measure how well you see in the distance in comparison to other people. The chart most commonly has a Big E at the top but other letters can be used. However, the letter E is used because it has 3 horizontal lines at equal distances, forcing the patient to recognize the black from the white. This is an important factor in having good vision.
As the patient reads the chart during the eye examination, s/he covers one eye and reads the letters on the chart until reaching the smallest level of letters they can read. The other eye is covered and the same procedure is followed. The smallest level of letters read, with out glasses or contacts, determines the patients visual acuity. Each line represents a different level, such as 20/20 vision, which is the gold standard.
The goal of a visit to your eye doctor is to find the prescription, if necessary, that will provide the highest level of corrected visual performance possible. Of course, there are numerous other tests to be taken during the office visit. It is the culmination of all of these tests that give the best indication of visual acuity and need for correction. It is important to be proactive in eye care as in all health matters. Periodic and thorough eye examinations should be a component of your primary care, because many eye diseases show no signs or symptoms in the early stages. Make it part of your annual healthcare regiment today!
The content on this blog is not intended to be a substitute for professional medical advice, diagnosis, or treatment. Always seek the advice of qualified health providers with questions you may have regarding medical conditions.