Eye Safety & Halloween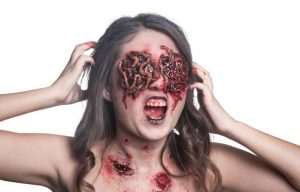 Halloween is here and, of course, you will count on your costume and makeup to make an impact. There are so many different costumes to choose from and specialty makeup is so readily available. When getting your face ready make sure you are choosing products that will not harm your eyes.
Makeup
Makeup is an essential part of most Halloween costumes and sometimes.  It may even be the most important accent. When choosing makeup, select a brand that is hypoallergenic, which means it is most unlikely to cause an allergy. To make sure it won't make you breakout, first test it at a small area first and then apply it to the entire face. Try to not get any into your eyes and leave a margin around the eye area that way you can protect your eyes from products that can sting or burn. If some makeup ends up in your eyes wash them with plenty of water. After the party or trick-or-treating, remove makeup promptly to prevent irritation. Do not go to sleep with your makeup on!
Contacts
Cosmetic contact lenses can complete the ensemble creating a convincing look. Although it is desirable to have a comprehensive disguise when costuming, Halloween contacts can be hazardous to your eyes. Even though these contacts have astounding effects, they can actually really cause damage to your eyes. Contacts actually come in sizes to fit your eye properly. Without a prescription, ill-fitting lenses can cause damage to the wearer's cornea. According to the U.S. Food and Drug Administration, the damage that can be caused by "one-size-fits-all" costume lenses includes:
Scratches to the cornea
Corneal infections (ulcers on the cornea)
Conjunctivitis (also known as pink eye)
Decreased vision
Blindness
If a bacterial infection goes untreated, it can spread rapidly within a 24 hour period. The infection can cause blindness without immediate treatment. Your eye doctor should be consulted immediately if you show signs of an eye infection, including redness, a decrease in vision, and pain in your eyes that does not diminish after a short period of time. The safe way to wear Halloween contacts is to see your eye doctor to obtain a prescription for proper fitting contact lenses, as well as proper instruction on how to clean and care for your lenses.
Masks
Masks can also be fun but can be dangerous to wear while walking at night, warn the experts at yoursightmatters.com.  Make sure the eye-holes in your mask are big enough for adequate vision. You'll most likely go trick-or- treating at night so you do not want your, or your child's vision to be impaired.  You can take some scissors and widen the eye holes to allow for better peripheral vision. If you or your child will be wearing a mask for evening trick-or-treating or a night Halloween party, lift the mask while walking over unstable ground or dark pavement, experts suggest. When heading out on Halloween night, also consider taking a flashlight with you to make sure you can see what lies in front of you.
Westside Eye Clinic can help you maintain your eye health and keep your vision in focus.
To make an appointment at Westside Eye Clinic to evaluate your vision, you can reach us at (504) 347-8434.
For more information, you can submit a request at info@westsideeyeclinic.com. We are located at 4601 Wichers Drive in Marrero and are at your service Monday through Wednesday from 9am – 5pm; Thursday and Friday from 9am – 4pm; and by appointment only on Saturday. Your complete eye health is our top priority!
The content on this blog is not intended to be a substitute for professional medical advice, diagnosis, or treatment. Always seek the advice of qualified health providers with questions you may have regarding medical conditions.