Jazz Fest Eye Safety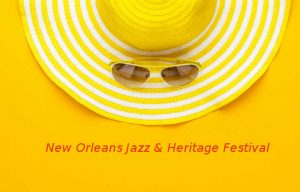 One of the best music festivals is right around the corner….the New Orleans Jazz & Heritage Festival. Jazz Fest takes place for two weekends only from April 2017 to May 6, 2018, and promises a fabulous music lineup, over 100 different choices of food, and hand-made arts and crafts.
The musical entertainment will take place across multiple stages and will feature every type of music genre. Some of the music entertainment lineup includes: Aerosmith, Rod Stewart, Sting, Jimmy Buffett, Jack White, Beck, Lionel Richie, David Byrne, Anita Baker, Big Freedia, and many more. Click HERE to see the entire 2018 lineup.
Now, as you are enjoying the music, food, and crafts, don't forget about your Jazz Fest Eye Safety. April and May are normally very hot months with lots of sun beating down on the festival goers. As you put on your sunscreen and hat, don't forget about your sunglasses.
Solar retinopathy, or short-term damage to the eyes, occurs when too much ultra-violet light has penetrated the retina when a person has stared at the sun for several minutes. Although it is difficult to quantify the length of time it takes for damage to occur due to variants, it is estimated that in clear conditions, this damage can occur in approximately 100 seconds or just over 1 ½ minutes.
Long-term sun damage caused by the effects of UV rays include cataracts, corneal sunburn, or growths on the surface of the eye. This damage occurs little by little over time. The only way to prevent long-term damage is to wear sunglasses with UVA and UVB protection whenever you go outdoors.
If you have suffered an eye injury or strained eyes at Jazz Fest or other festivals, to make an appointment at West Side Eye Clinic, you can reach us at (504) 347-8434. For more information, you can submit a request at info@westsideeyeclinic.com. We are located at 4601 Wichers Drive in Marrero and are at your service Monday through Wednesday from 9am – 5pm; Thursday and Friday from 9am – 4pm; and by appointment only on Saturday.
Your complete eye health is our top priority!
The content on this blog is not intended to be a substitute for professional medical advice, diagnosis, or treatment. Always seek the advice of qualified health providers with questions you may have regarding medical conditions.