WHY SHOULD I WEAR SAFETY GLASSES WHEN MOWING MY LAWN?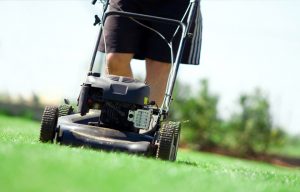 Protective eye gear is equally important in many different situations. While mowing and edging your lawn, it is imperative to protect your eyes from hazardous UVA and UVB rays from the sun as well.  However, you should wear polycarbonate safety glasses with side protection that are shatter-proof or impact resistant.  Should anything fly unexpectedly toward your eyes, these glasses will protect your corneas from becoming scratched subjecting your vision to risk.  With injury, comes the risk of an eye infection.  Before you begin mowing your yard, search the perimeter for trash and debris, and remove it to avoid any accidents.  These materials, if undetected, could conceivably pop up and injure anyone in the surrounding area, not just you.
Safety glasses with UV protection can be purchased for as little as $3.99 on the internet at Amazon.  This is a small price to pay for protecting your vision in perpetuity.  They also come in goggles with a secure strap to hold them in place.  These are more expensive, however, well worth the price difference.  For allergy sufferers, you could pair the safety glasses with Lawn and Garden Respirator face masks for added protection.  Approximately one half of all eye injuries result from household accidents while doing commonplace chores.  Most of these injuries are in fact avoidable.
At West Side Eye Clinic, we are here for our patients to protect their vision by taking preventive measures as well as in emergency situations. You can reach our knowledgeable staff at 
(504) 347-8434
 to schedule an appointment to protect your vision.  For more information, you can submit a request at 
info@westsideeyeclinic.com
.  We are located at 4601 Wichers Drive in Marrero and are at your service Monday through Wednesday, from 9am – 5pm; Thursday and Friday, from 9am – 4pm; and by appointment only on Saturday. Your complete eye health is our top priority!
The content on this blog is not intended to be a substitute for professional medical advice, diagnosis, or treatment. Always seek the advice of qualified health providers with questions you may have regarding medical conditions.