Should Your Baby Wear Sunglasses?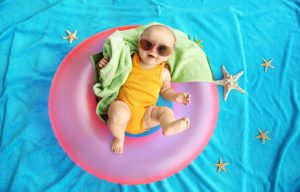 It's a bright sunny day and you are about to take your baby for a stroll. Should you put sunglasses on him or her?  Sun exposure can damage your child's eyes, so you will want to protect your little one's future vision. UV rays have been associated with cataracts and macular degeneration which can lead to vision loss, according to ophthalmologists. Don't buy cheap sunglasses, get some that block at least 99% of both UVA and UVB rays. Try to find the ones that indicate the percentage of protection they provide. Take a close look at the sunglasses you are planning on buying to make sure they are not scratched or have any other flaws that may distort vision.
What You Should Keep In Mind
You know your baby best, but "convincing" them to not take the sunglasses off and throwing them on the floor can be a struggle. Since you should get good glasses for your baby, this can potentially get expensive. Ophthalmologists recommend that children under 10 years should wear sunglasses in strong sunshine, but keep in mind that their young eyes should also "learn" to adjust to the brightness of the sun.
If you have any questions about sunglasses and your child's eyes talk to your eye doctor.
Westside Eye Clinic can help you maintain your eye health and keep your vision in focus.
To make an appointment at Westside Eye Clinic to evaluate your vision, you can reach us at (504) 347-8434.
For more information, you can submit a request at info@westsideeyeclinic.com. We are located at 4601 Wichers Drive in Marrero and are at your service Monday through Wednesday from 9am – 5pm; Thursday and Friday from 9am – 4pm; and by appointment only on Saturday. Your complete eye health is our top priority!
The content on this blog is not intended to be a substitute for professional medical advice, diagnosis, or treatment. Always seek the advice of qualified health providers with questions you may have regarding medical conditions.